CHAPTER #7 What Happens to My Credit Score if I File Bankruptcy?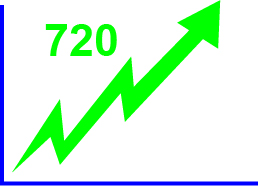 Strangely, it usually goes up. Most of our clients have a credit score of below 600. Four months after filing Chapter 7, you should receive a discharge. You then have a creditor report that shows way less debt, and that you received a Chapter 7 discharge. If you are working, now you are not under pressure to pay bills you cannot pay, and can start saving. You also cannot file Chapter 7 for another 8 years, or in a Chapter 13 for another 4 years. So the lenders think you are a pretty good risk for lending, since you have little debt, and no ability to file bankruptcy, and a job. Your credit score can go up as much as 100 points.
If you had a credit score of 700 or more, and filed bankruptcy, it was a phony score, since you were overloaded with debt. Even so, after a Chapter 7 discharge, it may not change much, or it may go back up.
Studies by Harvard and the Federal Reserve show that people who file bankruptcy and generally in a better position than those who remain in debt. The Federal Reserve said, "[people who file bankruptcy] experience a sharp boost in their credit score after bankruptcy, whereas credit scores recover at a much slower pace for individuals who remain [in debt]. The credit score of bankrupt individuals exceeds the credit score of insolvent individuals by 40-80 points. In addition, those who go bankrupt open new unsecured accounts post-bankruptcy at a higher rate (by around 15 percentage points) than those who don't file bankruptcy, while the number of inquiries is very similar across the two groups. This indicates a difference in access to credit, not demand for credit. [the Federal reserve] conclude[ed] from this evidence that the ability to file for Chapter 7 bankruptcy is associated with better access to credit, and while both insolvency and bankruptcy are forms of default, the debt discharge associated with bankruptcy leaves filers in a better financial position than individuals who become insolvent in similar circumstances."
Regardless of credit score, after you receive a Chapter 7 or 13 discharge, you will find yourself able to buy a vehicle or house if you have the right job and down payment. The key is to save up a down payment, and not get overloaded again.
Take our Debtor Education Course taught by attorney Peter Francis Geraci as soon as you file for either Chapter 7 or 13. Or even before filing for $25. It will help you understand how to raise your credit score.